Self-Cleaning Protein Skimmer 150 with Refleece Fleece Respooler
Regular price
$649.00 USD
Regular price
Sale price
$649.00 USD
Unit price
per
Sale
Sold out
Welcome to the patent-pending, automatic self-cleaning protein skimmer!  The novel rectangular design completely eliminates the skimmer cup and neck.  The skimmate/ gunk accumulation zone has a fully automated, digitally-controlled self-cleaning motor assembly.  The motor turns on once daily and the filter fleece captures the gunk and wipes the skimmer walls clean.  A large PVC drain at the top allows the liquid skimmate to be collected into a large (not included) reservoir.  If you are sick of skimmer maintenance, this is for you!
Designed for systems up to 200 gallons.  With the space-saving design, larger systems can have multiple adjacent units inside the sump.  Contact us for sizing or space considerations.
This bundle includes the all-new, patent-pending Refleece Fleece Respooler Tool!  Are you concerned about having to purchase new fleece when you need a new roll?  With the fleece respooler, you simply unwind the dirty fleece and place into your clothes washer without any soap or detergents.  Run on gentle cycle.  When the washing is complete, clamp the respooler onto a countertop, tape the fleece to the carboard core, press the foot pedal and in 5-10 minutes you are back up and running with a cleaned fleece roll that can be reused in the protein skimmer, roller mat or AIO combo filter.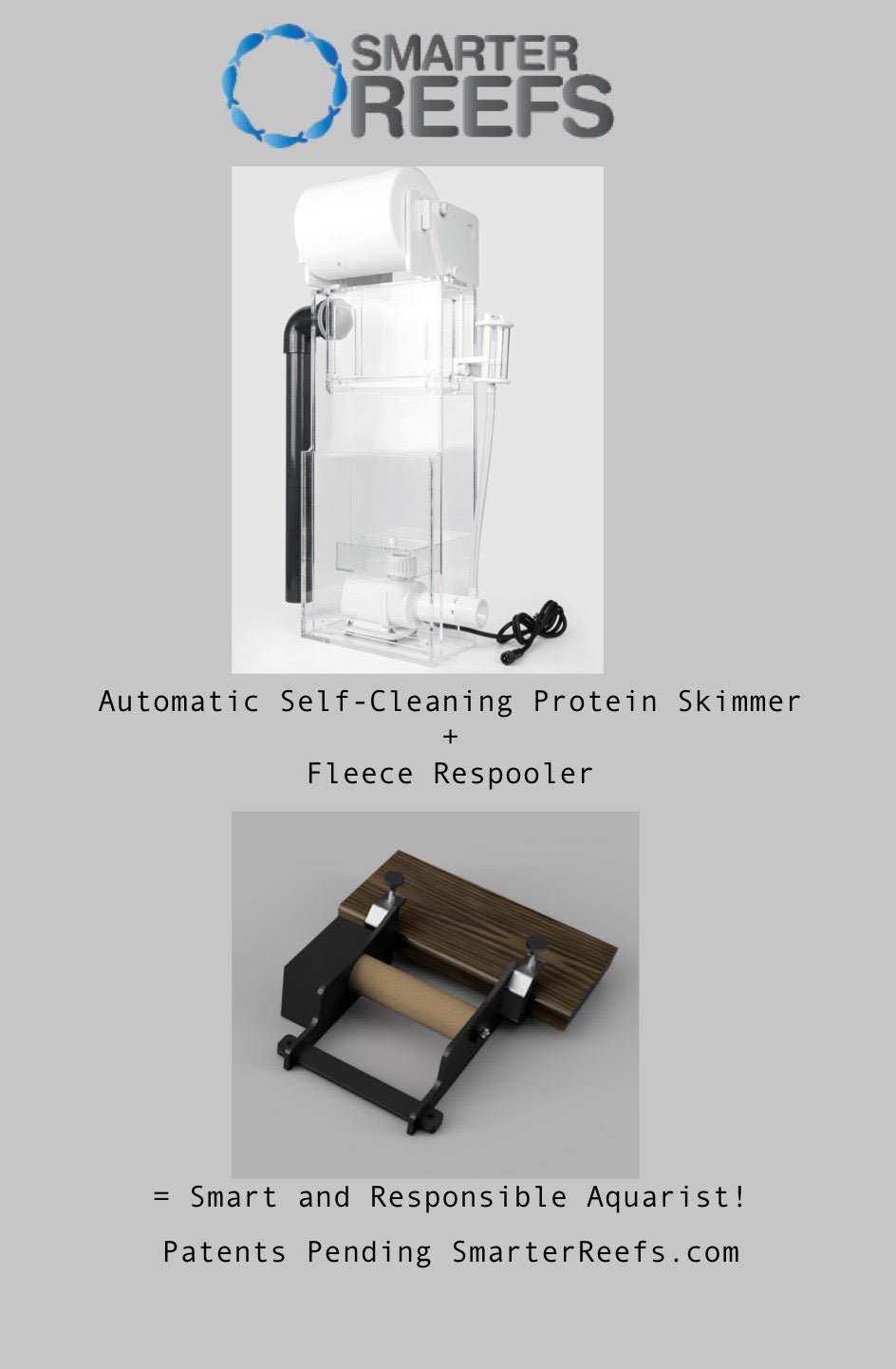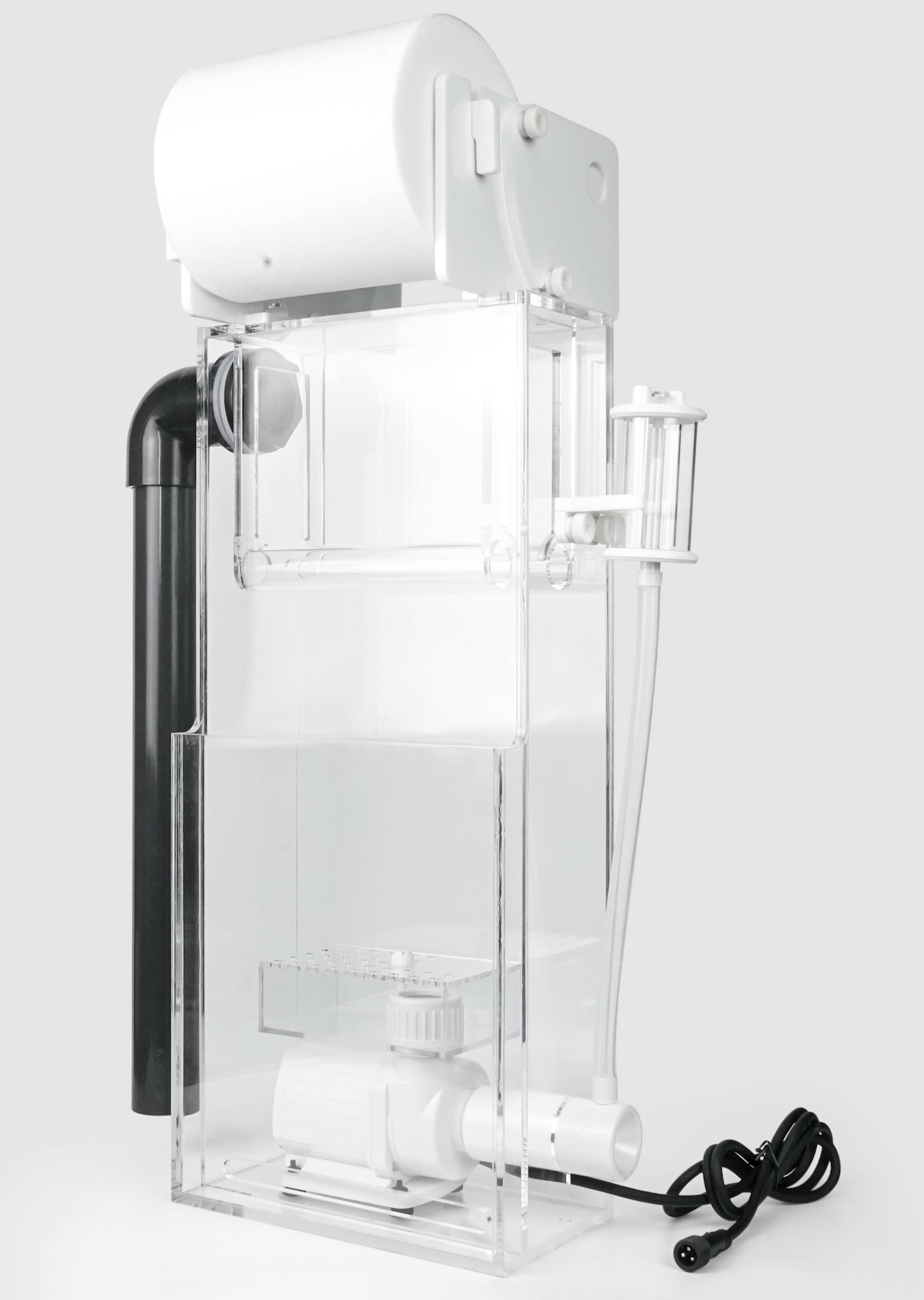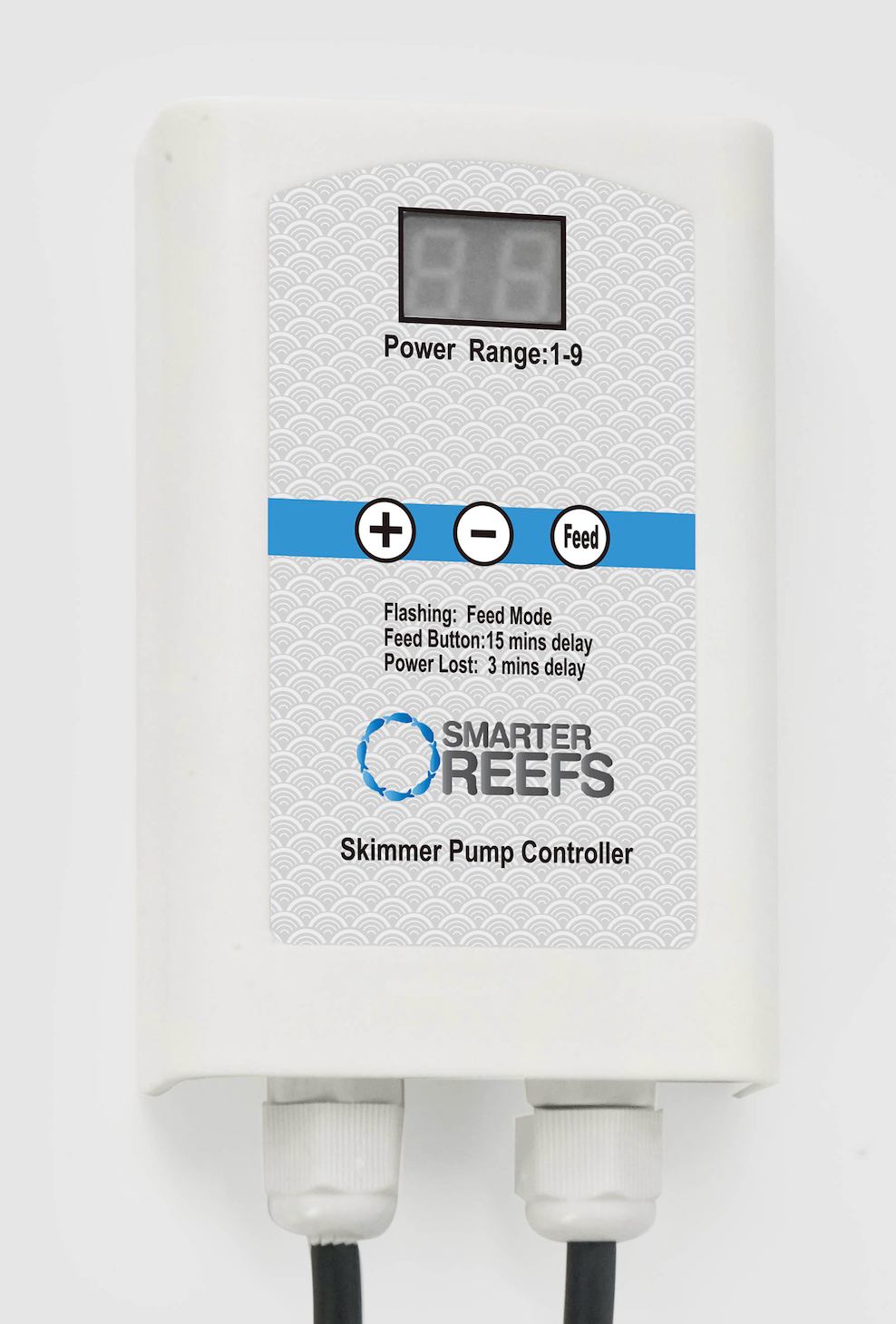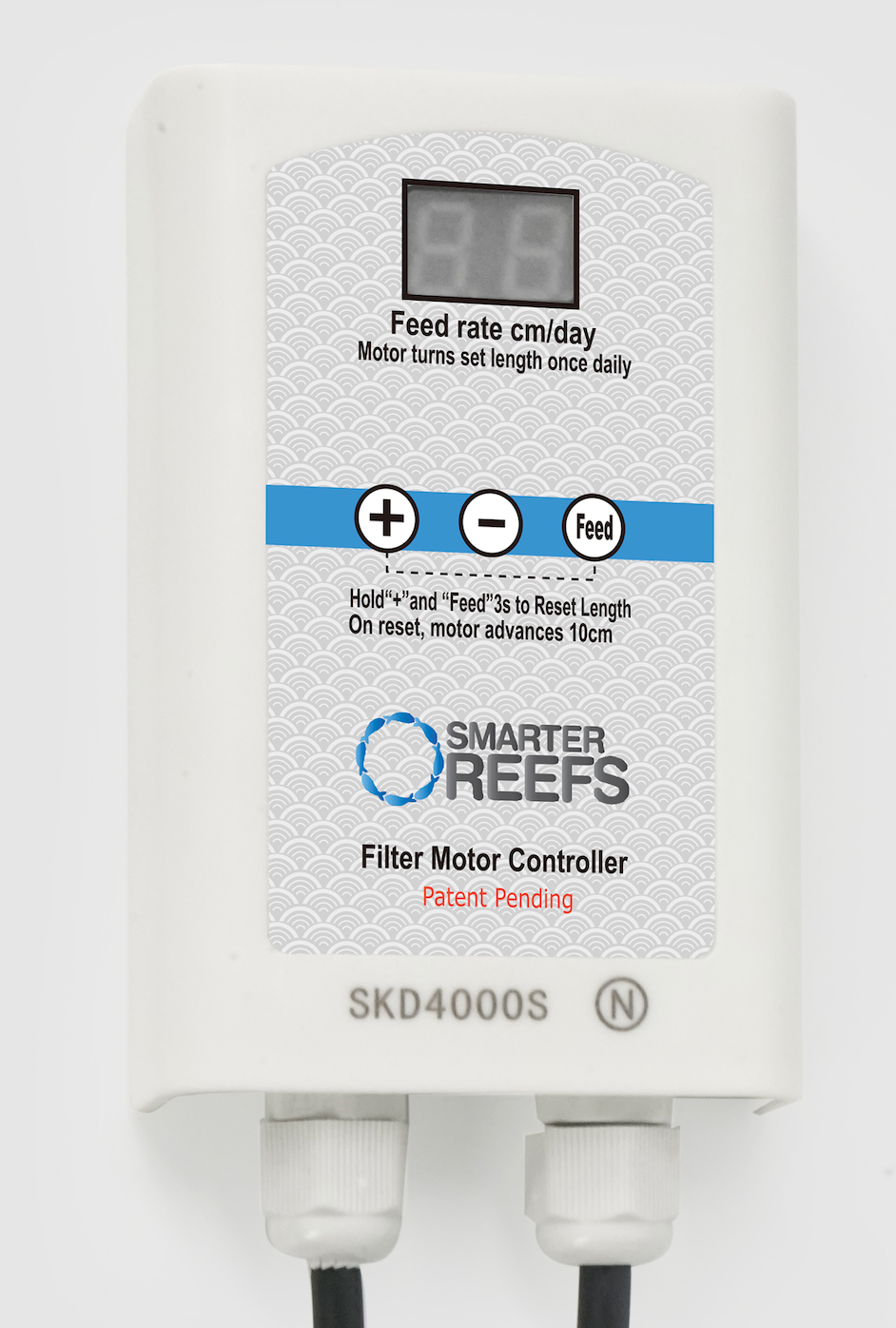 Specifications
Pump: Controllable DC 45W 4000L/Hr Pump
Air Draw: 1500 L / Hr max
Ratings: 200 gallon heavy stocked reef
Footprint: 8.5" x 4.5"
Materials: Cast-Acrylic
Self Cleaning Motor: 12V, 3 RPM DC Motor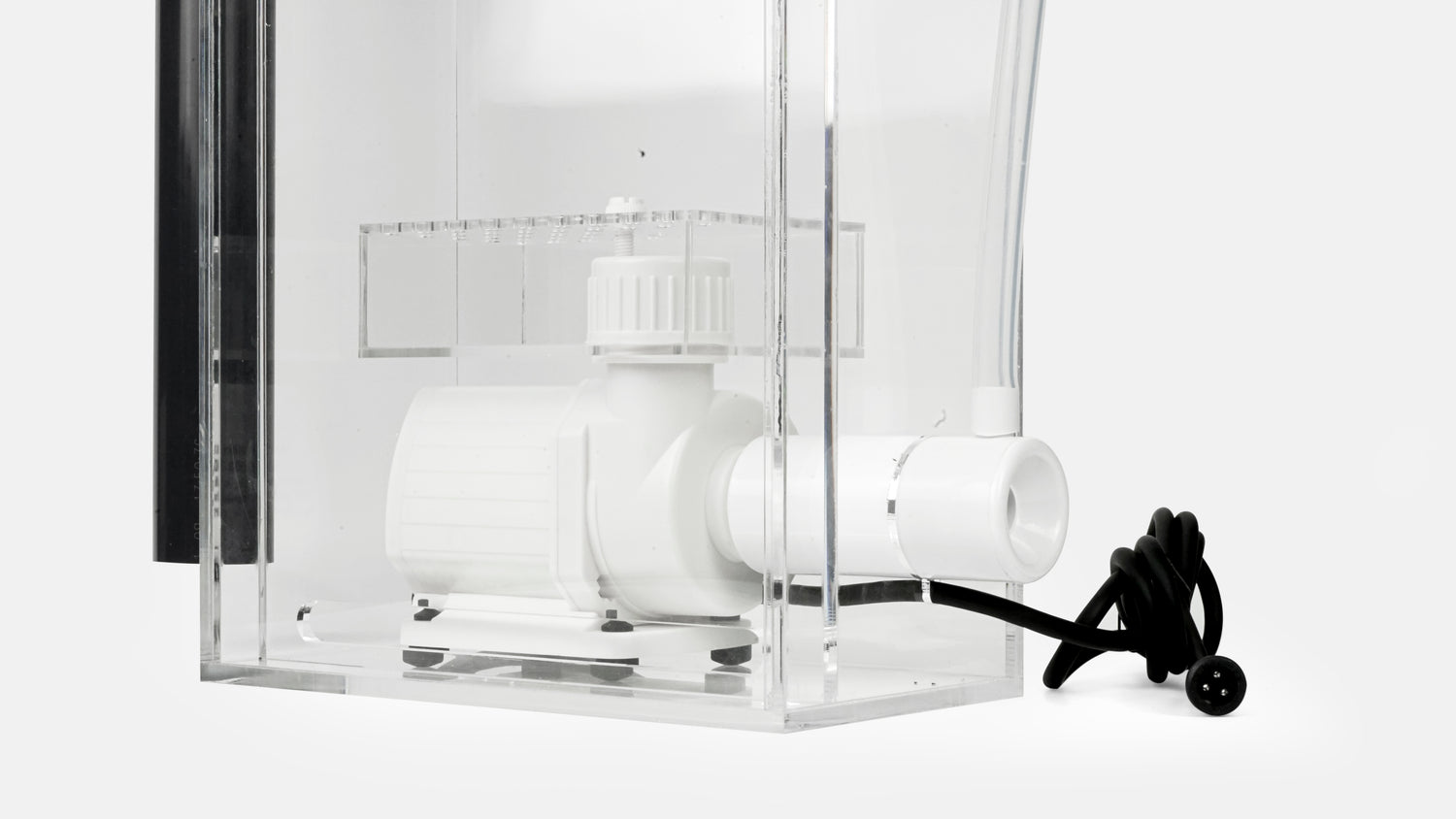 Powerful and Quiet DC Pump
Our controllable brushless DC pump is powerful and quiet. Includes 40W UL-certified power supply, venturi-connector and bubble diffuisng chamber. Controller features include delayed-start (3 mins) and feed mode (15 mins).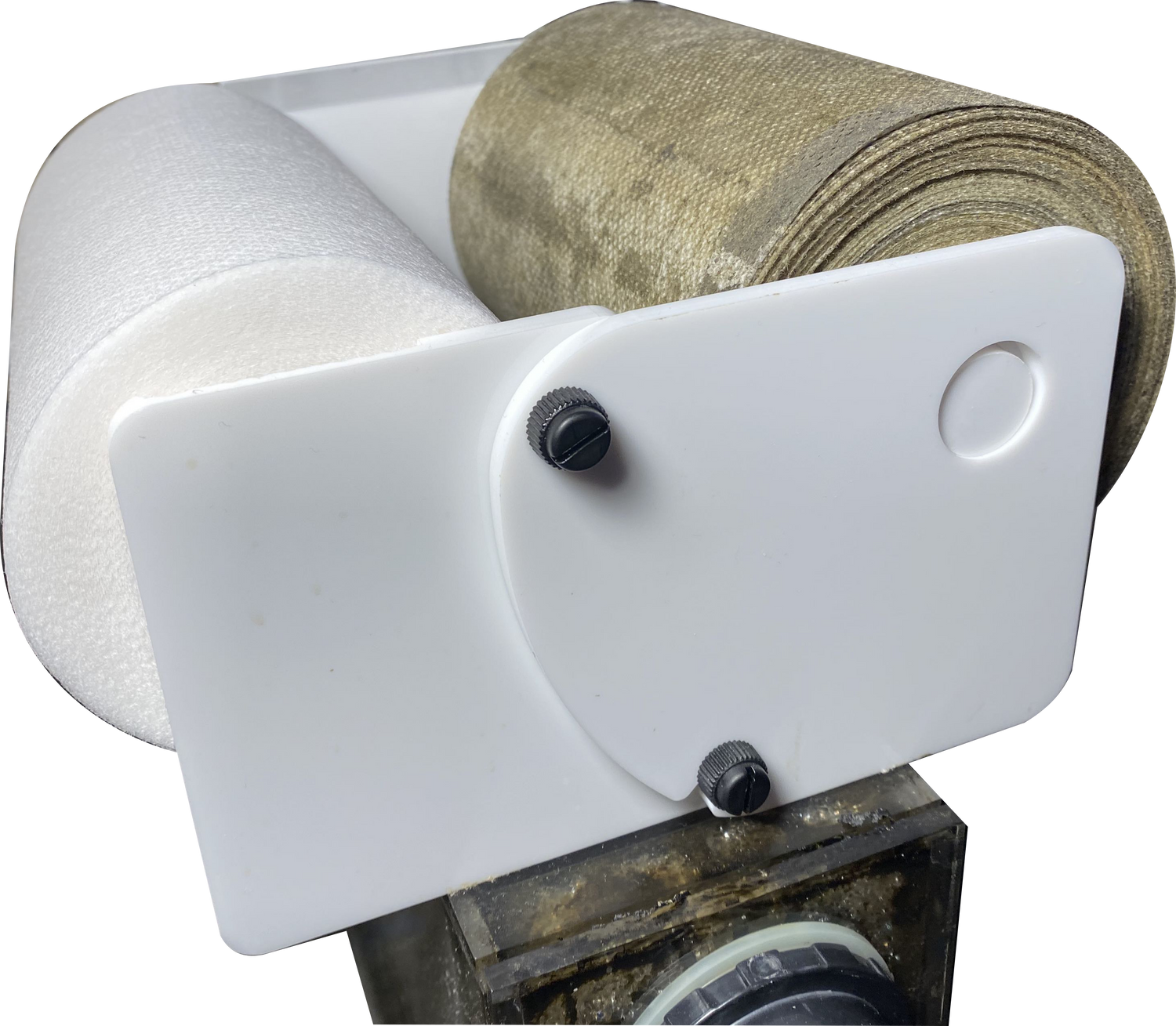 Automatic Self-Cleaning
The top asssembly holds a roll of filter fleece, and the digitally controlled motor turns on and rotates once daily. The skimmate / scum accumulates on the filter fleece, and the filter fleece wipes the inner skimmer walls clean. Periodically, the dirty roll is discarded and replaced with a clean roll. Rolls last 3 months or more.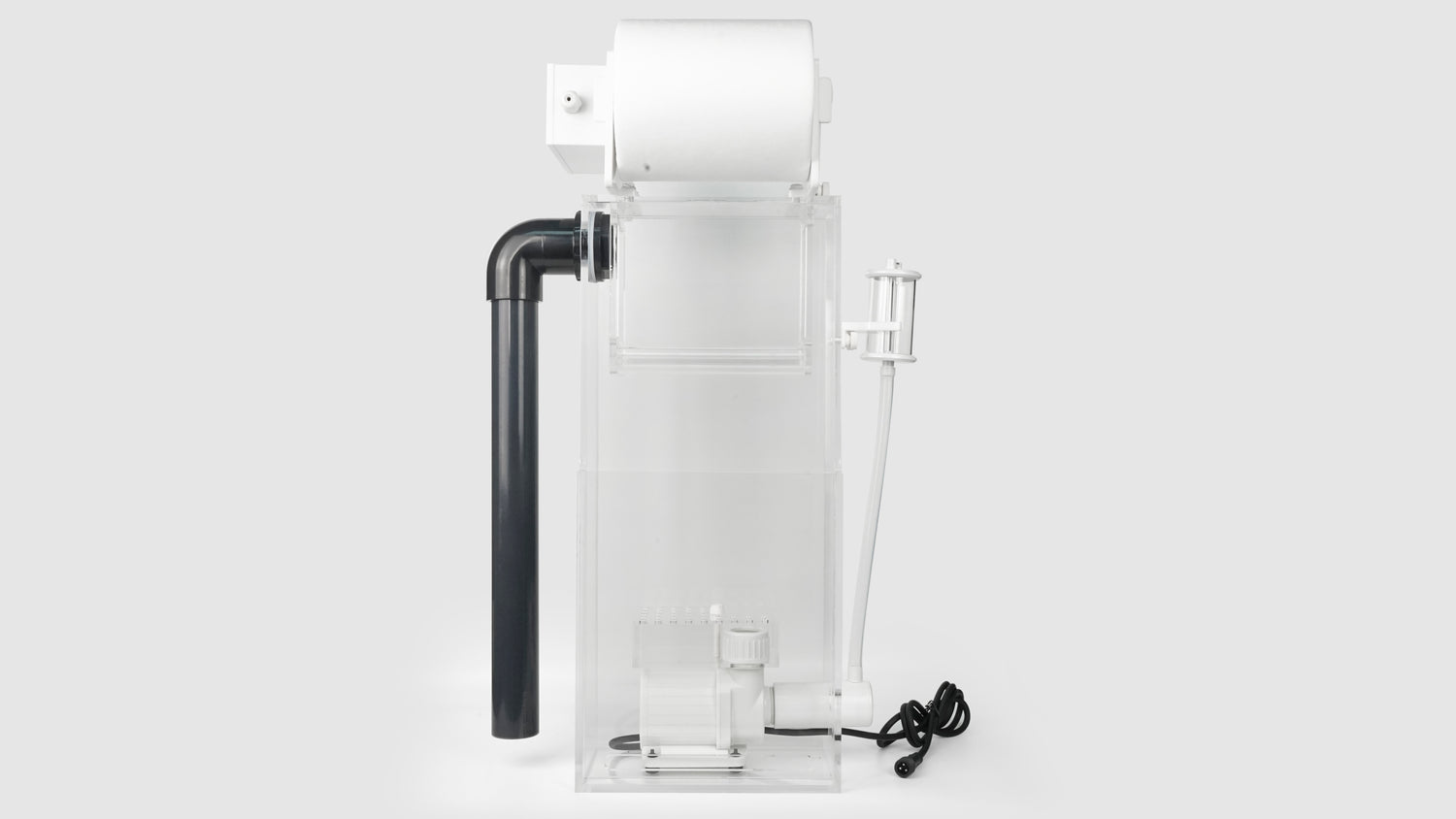 Ultra Low Maintenance
Filter fleece will last 3 month or more, depending on how you set the motor controller. Available large reservoir holds over 1 gallon of liquid skimmate. You can easily go months without having to touch the skimmer. Never mess with a skimmer cup and neck again!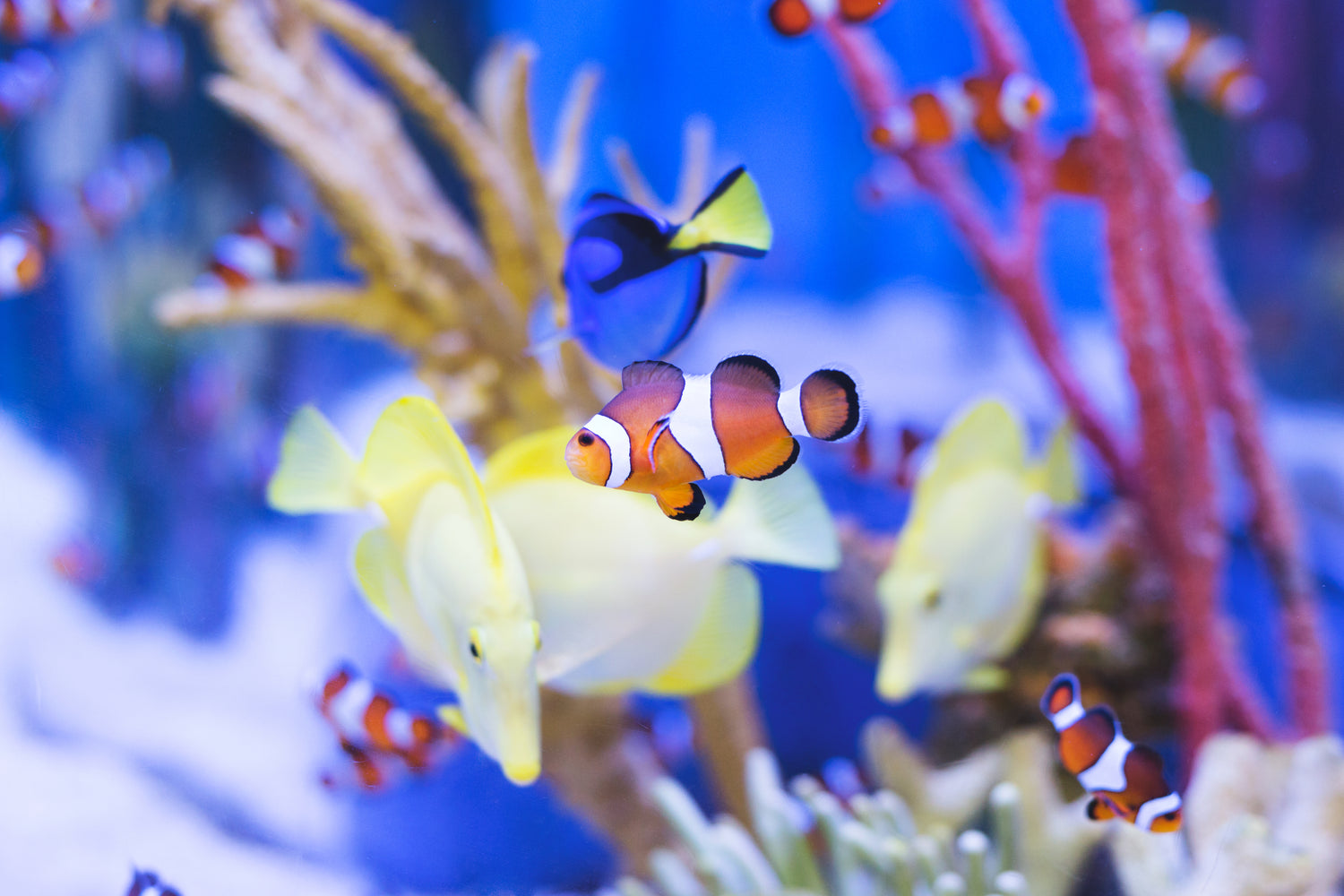 For 100-200 Gallon Aquariums
The powerful DC pump and space-saving design means the skimmer can clean a heavily stocked 100 gallon (400L) aquarium or a more lightly stocked 200 gallon (800L) aquarium.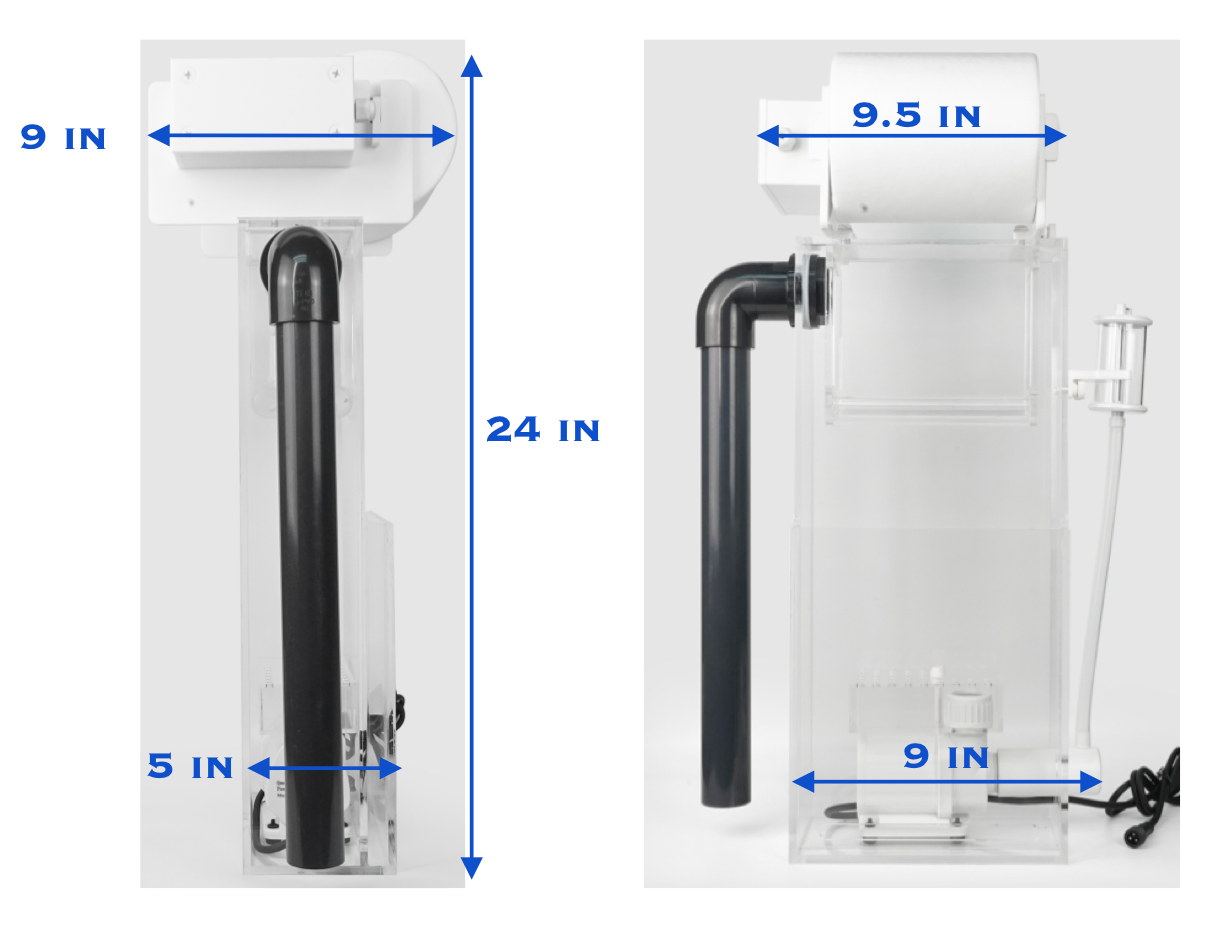 Will it Fit?
Fits easily in 40 Breeder sumps. Fits in 20H sumps with some planning. Requires about 28-30 inches vertical height under aquarium stand for maintenance.
Printable Sizing Sheet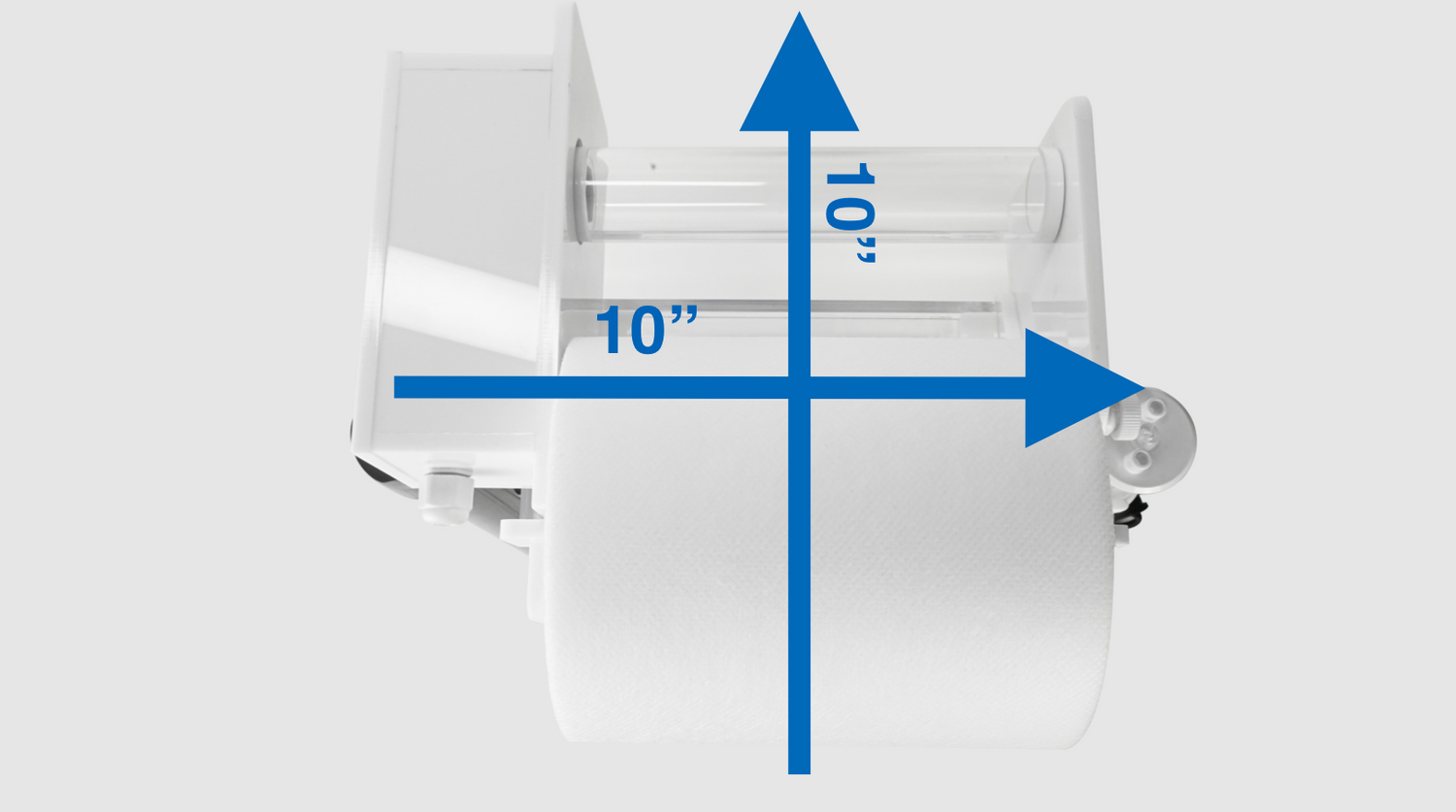 Top Down View of Self Cleaning Assembly
The self cleaning assembly requires about 10" x 10"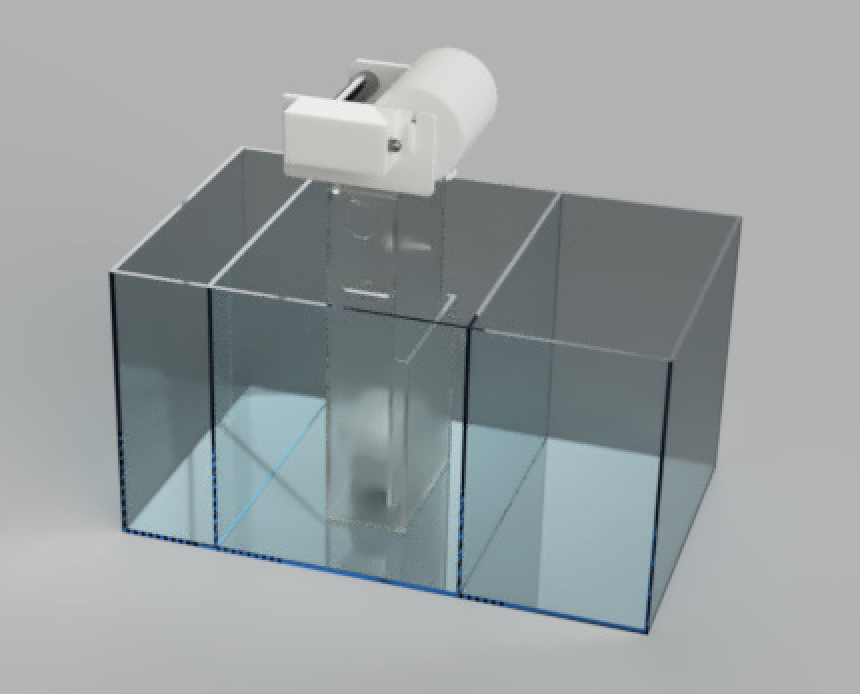 Fits in Most Skimmer Chambers
Shown is rendering of Waterbox Reef 100.3 sump. Contact us for custom renders or sizing questions.